Digitalization has been making a huge impact on many aspects of dentistry over the last decade. As such, many handmade labor intensive processes have already dramatically changed. Digital impressions are part of this revolution, allowing both improved quality and reduction of errors, and enhanced patient experience.
No one would argue that regular impression-taking is one of the most demanding tasks a dentist can undertake. Many patients struggle to tolerate impression materials as they sit in the mouth for 3-5 minutes. Other common issues related to standard impressions include potential cross contamination, shipping back and forth to and from the dental laboratory, distortion of impression materials due to multiple reasons and more. In addition, another aspect to be considered is the mere fact that impression materials are expensive, so retaking impressions costs money.
Of course, the other major problem is the inability to know if a dental impression is satisfactory until it's completed, and even then it can result in a very high percentage of errors. In fact, in a clinical evaluation of fixed partial dental impressions it was found that in 89.1% of the impressions had at least one visible error, forcing dentists to retake impressions, or even redo laboratory-made restorations. Therefore, any tool that can help speed up the process, avoid costly errors and make an altogether better experience for the patient, is of great value for dentists. This is where digital scanners can help.
The Dilemma of Digital Dental Impression-Taking
Although dentists are aware of the hardships and costs of conventional impression taking, they are familiar with this technology and are used to working with it. However, when they consider incorporating intraoral scanners into their workflow, fear of the unknown, the need to learn and get used to the new technology, the need to educate the whole team, questions related to the accuracy of their restorations, and of course, the needed financial investment are all major concerns.
Yet, there is another way to look at these concerns: on the one hand, evidence-based studies show that intraoral scanners and digital dentistry result in restorations as accurate (and even more accurate) than standard restorations; on the other hand, the thrill and excitement of dental teams embracing this new technology boosts dental offices with new energy and enthusiasm.
But perhaps what really forces the dental market to change are dental laboratories. While dentists may not be fully aware of it, more and more dental laboratories are going digital and are slowly moving away from supporting traditional impressions, to partly or fully digital fabrication processes. As such, they become the engine behind the digital revolution, setting a new standard for the trade.
So what is known from the dental literature about the benefits of intraoral scanners?
In a 2015 survey among dentists, there are three main attributes of intraoral scanners that clinicians agreed made a huge difference. These are: accuracy (in terms of getting it right first time), efficiency (in the sense of an improved workflow) and improved patient comfort (no gagging). Thus, in recent years there is a significant shift towards incorporating intraoral scanners into dental offices, not as a gadget but as a valuable tool that has the capacity to fit into, and improve their business.
And what about that initial outlay?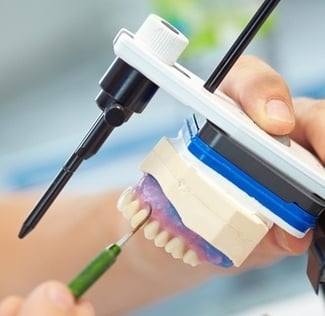 Purchasing an intraoral scanner must be looked at as an investment and as a doorway into the new digital era. As such, dentists should certainly consider the immediate cost-benefit value, but also ensure that any investment undertaken is long lasting. VIZ offers a cost-effective solution and a great starting point into clinical digital dentistry. With an affordable price tag, comparable accuracy and capabilities, the VIZ Intraoral scanner is a practical tool that can instantly transform the way a dental practice operates.
What's more, with ADIN's long term support program - the VIZ scanner will remain relevant and up-to-date for many more years.
The Future - Digital Impressions vs. Regular Impressions
It is clear today, that in the not-too-distant future many dental laboratories will no longer provide services to conventional dental impressions, at least for common procedures such as crowns, bridges, and implant supported restorations.
While dentists may feel that this is just a marketing ploy to get them to invest in yet another gadget, consider this:
The use of intraoral scanners has proven to result in fewer remakes and, therefore, a better collaboration and improved workflow among dental offices and laboratories. Additionally, faster turnaround times equals greater patient satisfaction and increased referrals, and beyond that - it can boost the whole atmosphere of the office by engaging the staff with a new and exciting innovation.
The impact of digitizing dental impressions is clear to see for dentists, labs and patients alike and, perhaps, the writing is already on the wall for conventional dental impressions. So if dentists are looking for the best cost option to enter the digital dental world, there is no more cost-effective way to kick start their digital journey than with a VIZ Intraoral Scanner from Adin.