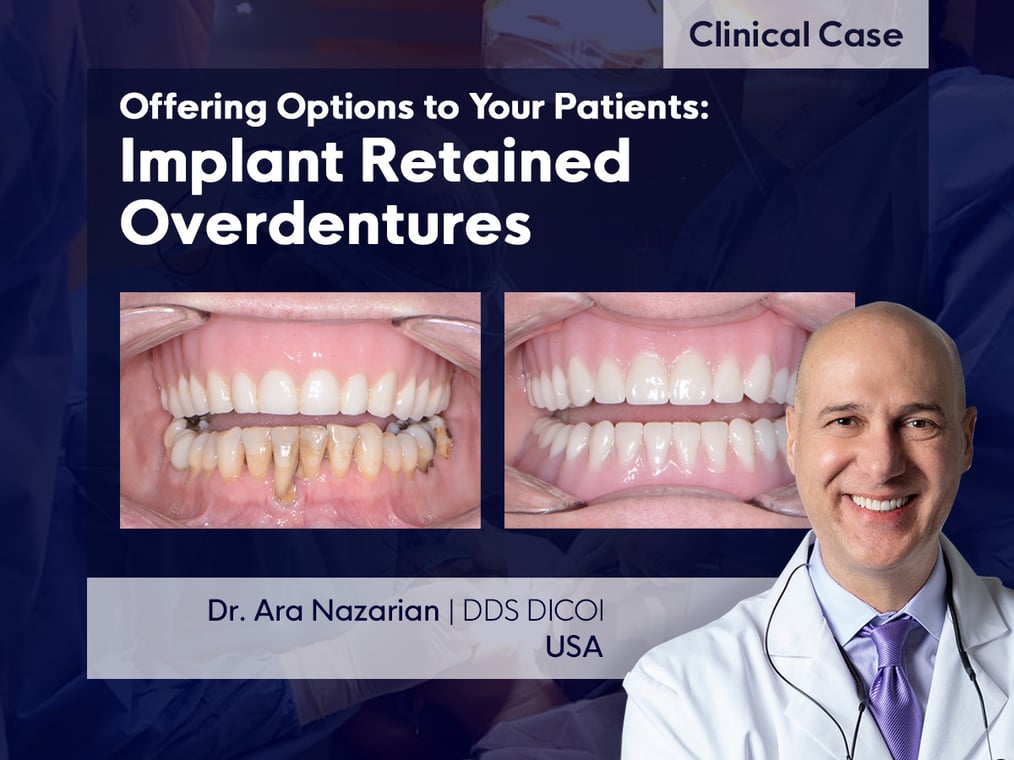 A patient in her mid-sixties approached our dental practice, expressing dissatisfaction with the aesthetics, function, and effectiveness of her current dentition.
Upon examination, it was evident that in the maxillary arch, she was already edentulous and using a complete denture.
Meanwhile, the mandibular arch presented teeth affected by decay, periodontal disease, and significant bone loss.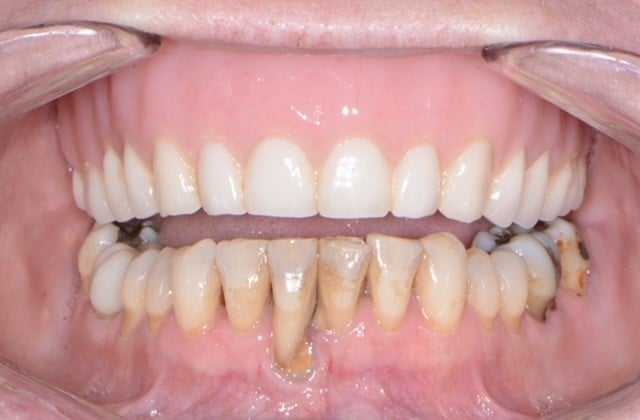 Patient before treatment
Patient's Dental Challenges
Edentulous maxillary arch with a complete denture.
Mandibular teeth affected by decay, periodontal disease, and bone loss.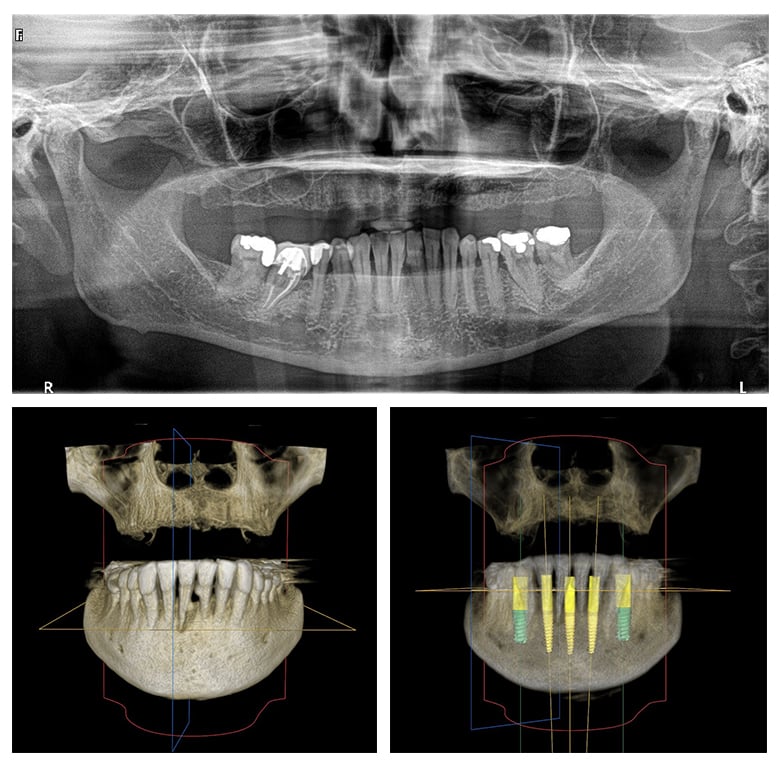 Treatment Options Discussed
After a thorough discussion of risks, benefits, and alternative treatments, the patient was informed of the following options:
Complete Denture: Replacing the lower teeth with a complete denture. However, this would offer minimal stability and retention.
Over-Denture (Snap-in Teeth): This would ensure adequate retention during speaking and eating.
Fixed Solution: A solution where the teeth could only be removed by a dentist.
Patient's Decision
After considering all options and their respective costs, the patient opted for a new denture in the upper arch, complemented by an over-denture supported by five dental implants in the lower arch.
This choice would provide a cost-effective treatment fitting her budget.
Planning and Procedure
To initiate the planning phase, essential records were gathered, including:
• CBCT
• Maxillary and mandibular impressions
• Bite registration
• Photos
The primary objective was to extract all lower teeth and place dental implants in the anterior section of the lower arch, leveraging the higher density for immediate loading of the transitional over-denture.
For this case, Adin's Touareg dental implant system was chosen due to its unique design, taper, cutting action, and aggressiveness, ensuring immediate mechanical fixation.
This approach allowed the patient to benefit from an immediate functional over-denture during the osteointegration phase.




Benefits of Implant Supported Overdentures
Implant-supported overdentures stand out as one of the most practical prosthetic solutions for patients who either cannot use fixed restorations or are awaiting the osteointegration of their newly placed implants.
The Grip™ attachment system offers a versatile solution, ensuring maximum denture retention and stability for both maxillary and mandibular dentures.
Its variety of retentive caps empowers dentists to select the appropriate retention level for each case, with the added advantage of easy replacement when necessary.

Conclusion
This comprehensive approach not only addressed the patient's dental challenges but also provided her with a functional and aesthetically pleasing solution.
By offering multiple treatment options and tailoring the solution to the patient's needs and budget, we were able to achieve a successful outcome.
Eager to amplify your skills?
Join Dr. Ara Nazarian in Miami Beach, Oct 27-28, for the Advanced Implant Strategies Course


---