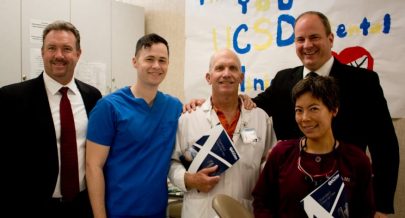 Adin Dental Solutions USA is proud to partner with the University of California San Diego Pre-Dental Society and their Free Dental Clinic Project.

The project consists of 4 free dental clinics located throughout San Diego County with a team of over 70 doctors donating their time rotating through the facilities.
The clinics provide a dental home to those who are low income, uninsured, and homeless who otherwise would not have access to dental care.

A team of pre-dental students, dentists, and other volunteers work together to provide comprehensive dental care for patients.
The clinics work under a transdisciplinary model providing access to medical, pharmacy, acupuncture, social work and legal services for patients to improve their health and livelihood.

Dr. Sussi Yamaguchi, "We are proud to have Adin Dental supporting our clinics and thank them for all their time and effort to support a great cause."

With its products in the market since 1992, Adin Dental Implant Systems Ltd. is a global leader in the design and manufacturing of dental implant solutions including ADIN Digital which provides state of the art digital solutions for the dental industry.

Adin Dental Solutions USA has been acknowledged by both local San Diego dentists and surgeons as the company who provided for the clinics in their time of need, donating their products and time.

Representatives from Adin will be working side-by-side with the doctors and patients to help them provide seamless care for those needing dental implants and restoration.
Adin is proud to serve the University of California San Diego Pre-Dental Society, their clinics and the Southern California area by giving back to the community.
Individual success stories to follow.

In the picture from the left: John White – West Coast Director of Sales Adin USA; Matt Konop – Student Clinical Co-Director UCSD Pre-Dental Society; Dr. Sam Dove – Clinical Director/Advisor UCSD Pre-Dental Society; Matt Culpepper – Southern California Territory Manager Adin USA; Dr. Sussi Yamaguchi – Clinical Director/Advisor UCSD Pre-Dental Society.