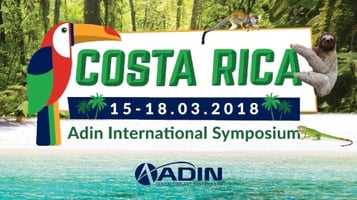 As we quickly approach the end of 2017, our attention starts to turn to our Annual Adin International Symposium in Costa Rica. Between the 15th and 18th March 2018, guests can expect a variety of comprehensive and thought provoking lectures, plus a series of practical workshops designed to promote the latest advances in dental implant techniques. The symposium is to be held at the stunning Barcelo Tamba Resort, which is located in a natural setting of unparalleled beauty.
There will be many essential topics discussed over the course of the weekend, one of them is peri-implantitis, in particular how dentists can improve long term dental implant success. If the latest reports are to be believed, at least one in every two or three implant patients may suffer from peri-implantitis at some point in time. Yet, today the vast amount of literature written on the topic tend to be conflicting and don't provide a clear consensus how one should treat such a problem. This is only one of many "hot topics" that will be explored at this year's Adin International Symposium.
Learn How To Prevent and Combat Peri-implantitis At The Adin International Symposium 2018
Dental literature evolves over time, through both clinical and bench studies. However, each research program is focused, in many cases, on one aspect. So as it is difficult to see the whole forest while focusing on individual trees - clinicians often get lost in the details of specific studies when trying to figure out what to do with their next patient.
In Adin's next International Symposium, influential leading experts will describe ways to establish the best environment for newly placed implants, discuss up-to-date prevention protocols to reduce the risk of peri-implantitis, and provide detailed and specific surgical and non-surgical methods/ techniques to better control many of the documented risk factors associated with peri-implantitis.
At the end of the program, attendees will know how to correctly identify the disease and evaluate its severity, while having a better understanding of protocols required to treat it quickly and efficiently.
Why Should You Attend?
Peri-implantitis is a real risk. Many implant patients will suffer from it in the future. However at this point in time, there are no established and accepted treatment protocols or even global agreements for its diagnosis and best timing for treatment.
The Adin International Symposium in Costa Rica is the place to get up-to-date knowledge, practical clinical protocol and better understanding of this troubling problem, from top clinicians and researchers, so that you know what to do when the next patient comes to your office. Of course, the stunning location is a great additional bonus. So reserve your place today – we guarantee you won't be disappointed!