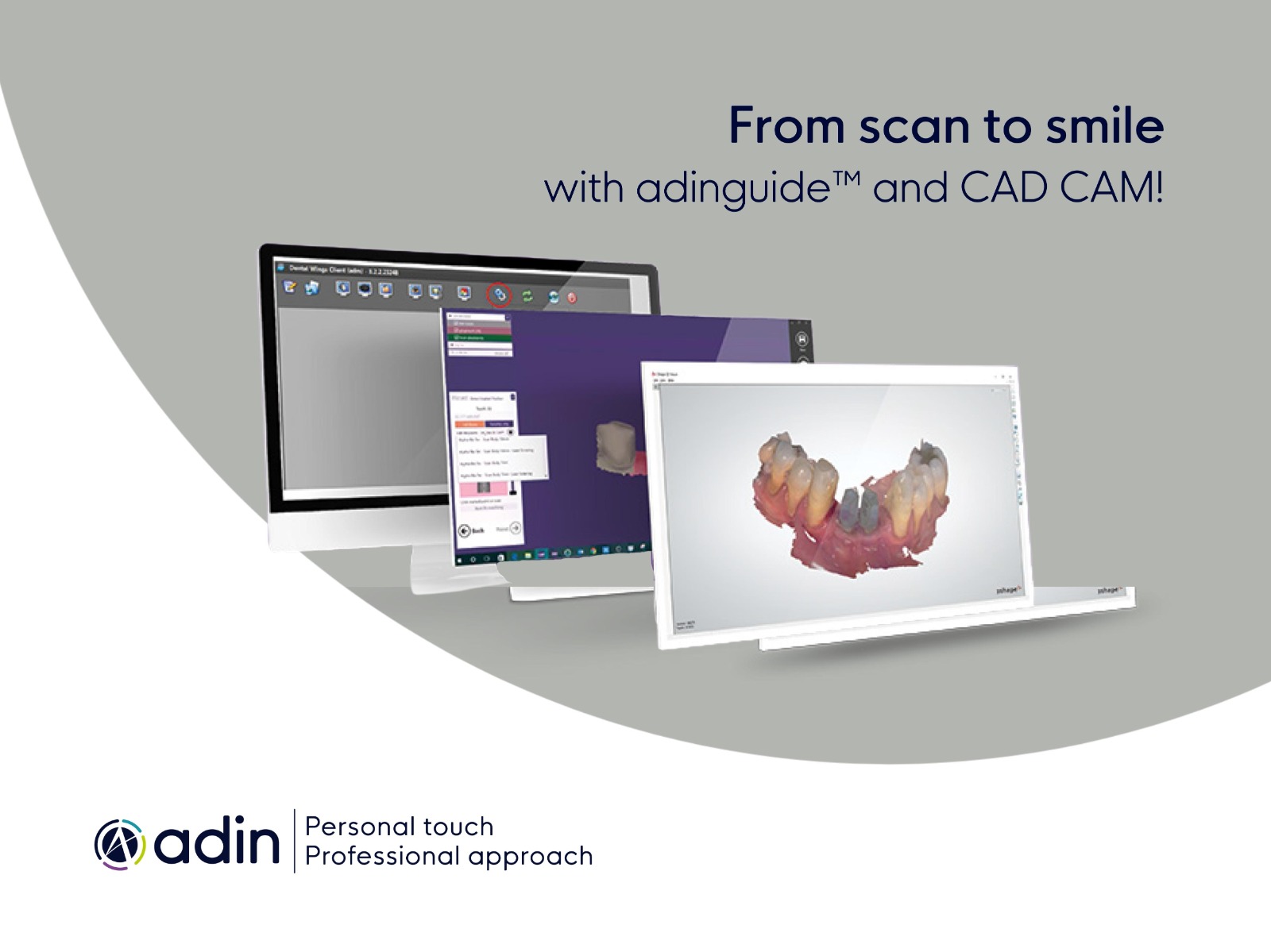 "I was sure it would take me years to gain implantology confidence and achieve great results for my patients. With the Adin revolutionary guided surgery system, not only did I have access to all the know-how I needed, but it also offered me an easy, step-by-step method to apply the needed procedures with maximum accuracy and minimum mistakes. Gaining confidence is no longer an issue. We keep growing our practice just by using these methods."
Daniel B, GP with 2 years experience (USA)
With digital dentistry gaining speed to the point where now it seems as though there are no limits to what it can do, we created our guided services: adinguide™ and CAD CAM.
For implant insertion, guided surgery has grown in popularity among dentists.
Research is showing that compared to freehand implant surgery, guided implant surgery offers precise, effective, and efficient implant insertion while protecting the vital anatomic dental structures.
The flexibility to alter the planned implant positioning during surgery is the dynamic design's main benefit.
What are the remarkable benefits of guided surgery for both patients and surgeons alike?
Patients value short, effective therapies in today's hectic society.
By reducing procedure's time, the patient spends less hours in the chair and feels more at ease and less nervous about it.
All the while, the dentist is able to concentrate more clearly on the minute details thanks to effective time management.
Neither patients nor dentists want to squander time because it is valuable.
Allow dental technologies to work to your advantage so that you can reach the best results.
The greatly increased placement accuracy of guided surgery is an equally notable benefit.
As a result, doctors are more confident in their ability to complete the treatment, and the results are better.
This is significant because the health of their patients is the top focus of any qualified dental expert.

Looking for an easy-to-execute flapless surgery?
Flapless surgery execution is now an easy process thanks to the Adin Step-by-Step guided surgery. The healing process is greatly enhanced, and the recovery period is shortened.
This is crucial since patients' preferences for dental clinics are heavily influenced by recovery time and minimal pain levels.


No one wants to experience surgical complications.
As such, explaining to your patients the benefits of our guided services can help them understand that the procedure is safe and therefore, make them feel more comfortable and reduce their anxiety.
The entire procedure is planned down to the smallest details before the doctor even enters the surgery room, consequently minimizing surgical complications.
Dental surgeries are complicated in general and thus, any kind of help that makes them easier is welcomed.
Why choose adinguide™?
The adinguide™ was specially designed to support effortless procedures, with accurate and predictable implant placement.
On the other hand, Adin's CAD CAM components and digital libraries allow dental professionals to design and create cutting-edge restorations supported by our implants, which utilize the most recent and advanced digital restoration techniques.
Adin-guided surgery brings many benefits for both patients and dentists. Improving the experience of the treatments makes patients happy and happy patients will recommend the dental clinic to others.
Do you feel you want to embrace new methods and add high-quality implants into your practice?
We are glad to offer local support by introducing you to the Adin guided services.
Get in touch with us and we will connect you to the nearest local training center of Adin, active worldwide and here to help you grow your skills!
You can follow us on Facebook, Instagram, Twitter, LinkedIn and Youtube – we are looking forward to reading your comments and feedback!