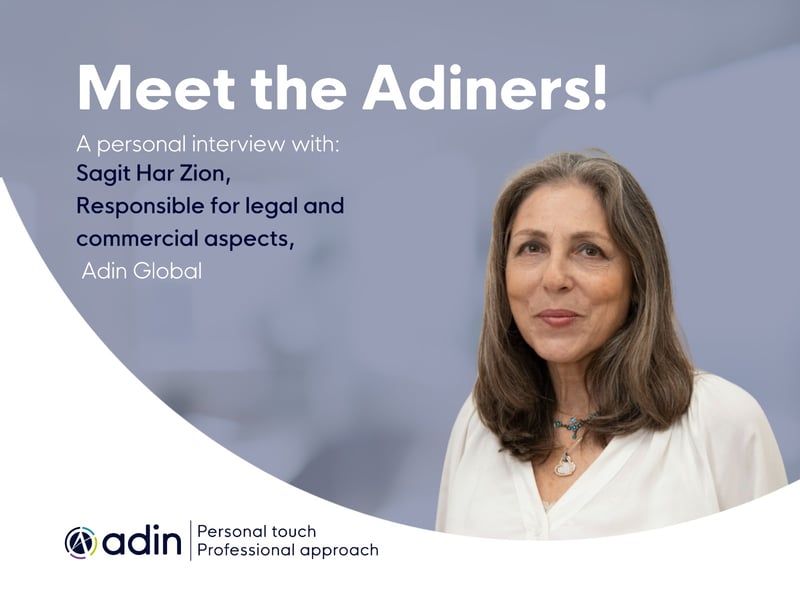 "Things will ALWAYS turn out for the better."
Sagit Har Zion
Successfully navigating a more and more competitive market to build a legacy that both dentists and patients can benefit from is the summation of a fearless commitment to excellence and innovation led forth with a daring spirit.
To see the results, working together is the power of many operating as one, seeded in trust, respect, and teamwork. These are our people, the Adiners.
Sagit joined Adin Global in 2014 and she is responsible for legal and commercial aspects.
Her work is supporting the development and growth of Adin by providing optimal information for risk management in the day-to-day life of the company.
We invited Sagit to share with us some insights from the position of a valuable Adin employee, and we also got to have a glimpse into her passions outside the office.
Tell us a little about your position and mission as part of Adin's global family.
I am responsible for legal and commercial aspects (mainly contracts and the like) and work with Adin's legal consultants. I see my main task as supporting the development and growth of Adin by assisting in reducing barriers, reducing risks, and providing optimal information for risk management in the day-to-day life of the company.
When did you join Adin and what made you join us?
I joined Adin in 2014, and found a base on which I could use the commercial experience I had accumulated throughout my years of working experience; I found challenges together with high levels of flexibility and openness in finding solutions. This dynamic brought us all closer and the results were measured by smiles of contentment. I was happy about it.
What work situation or special achievement made you feel proud?
I took part in the challenge of communicating Adin's options plan to all company's employees. For some of the employees, it was not easy to understand the company's will to share the options plan with all employees, not only the management. In the end, we were able to explain this complex issue in such a way that almost all employees joined the options plan willingly.
What is your life mantra?
Things will ALWAYS turn out for the better. Keeping hope alive is an act of faith that allows us to find the force within to overcome challenges.
What would be your advice for a person who seeks to join Adin?
If you put your mind into learning, understanding the inner processes, and cooperating with your co-workers, every hour you spend will return to you many times over.
We are also curious to learn a little about you.
Tell us about a passion you have.

I LOVE to read. I established at Adin a public library where everyone can take and give books. ☺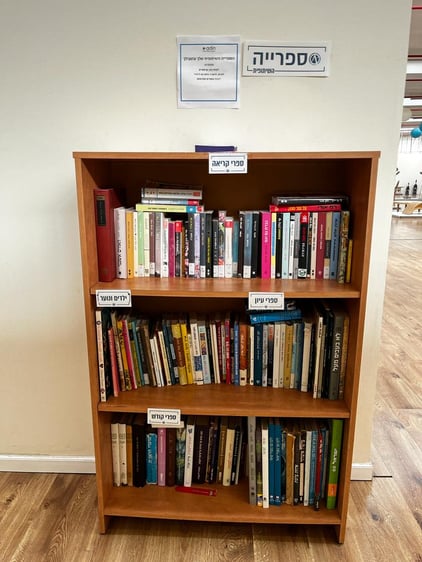 The book corner at Adin HQ
Thank you, Sagit, for sharing with us your experience with Adin.
It's our people that help the company thrive and grow and we can only reciprocate that by nurturing their potential and valuing them as members of our global family.
---

About us:
Founded in 2001, Adin Dental Implant Systems is a global leader in the design, development and manufacture of dental implant solutions & on track to become the world's leading independent dental implant provider.
We are growing and we will be happy to meet new talents to join us – you can learn more about our jobs opening here.


You can follow us on Facebook, Instagram, Twitter, LinkedIn, and Youtube – we are looking forward to reading your comments and feedback on the importance of a company's people.