Mr. Jeremy Rosenberg, South Africa.
"Prices might be negotiable but good values and solid business principles are not", according to Jeremy Rosenberg, our South African partner.
Jeremy, who heads a medical & dental device distribution company, says that as a relationship-based business he's found the Adin culture very compatible.
While South Africa still doesn't have enough dentists, it's catching up slowly – making it an exciting emerging market for dental suppliers.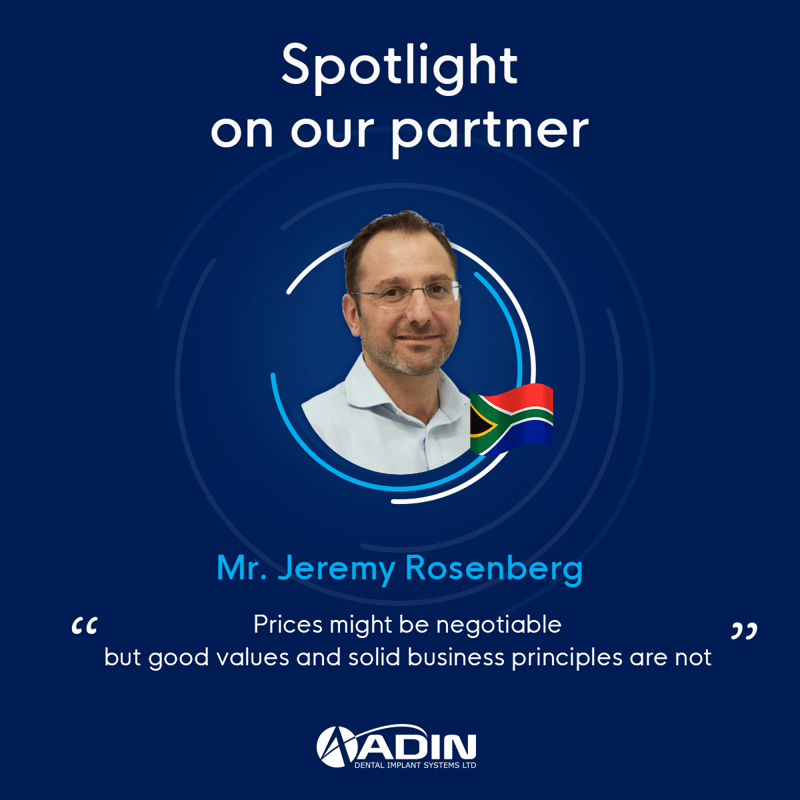 _____
"We are based in Sandton, Johannesburg South Africa.
We are a dental and medical device distribution company with a specific focus on Dental Implantology.
Our flagship brand is Adin. We also have a portfolio of complementary products such as the ISQ device from Penguin, synthetic bone regenerative material and surgical irrigation lines for most types of surgical motors on the market to name a few.
We are sustainably adding to this portfolio."
_____
As our newest partner, how do you like working with Adin?
I've always believed that a supplier and similarly a customer become part of the DNA of your business whether you like it or not.
We are a very relationship-based business so we can ensure positive outcomes of those relationships thus affecting the influence that has on your company in a positive way.
The culture of Adin has been very compatible with us in that regard.
How did you get into the dental market and how long have you been working in it?
I started in the dental implantology market in 2016.
As the old saying goes, the dental industry is something that chooses you.
I came across an opportunity in the industry and went for it.
The rest is history.
How is the dental market in SA currently? What is your forecast for the rest of 2020?
In our country and on the African continent there are still far too few dentists for the population and that is thankfully changing albeit a bit slowly.
From a healthcare perspective the sooner this catches up the better so people can enjoy better quality of life through accessible dental healthcare.
From a business perspective this is an exciting emerging market that we are fortunate to be a part of. The rest of 2020 is in the hands of our ugly new friend Covid-19.
Only time will tell but I am optimistic that things will settle down.
What would you like to achieve in this market?
We would like to continue to grow sustainably offering quality products that deliver high levels of value with exceptionally good service.
We have customers already in 5 other African countries and we are actively growing that market. We also have plans to get more involved in education.
What's your "two cents" tip?
Prices might be negotiable but good values and solid business principles are not.
It's a marathon, not a sprint.